EoC MDU Outdoor Master Bridge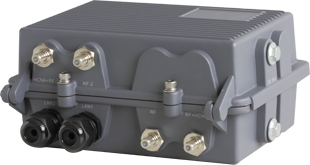 Model : CEM-7038
Coax MDU Master Bridge Outdoor Waterproof Last Meters Distribution Providing a Managed 700Mbps / 350Mbps Ultra High Speed Service
Triple Play by QoS and IPv6 Support High Throughput Ideally for IPTV Service The Most Powerful and Cost-Effective Coax MDU Solution with Remote Management.

Introduction
THE COAX MDU OUTDOOR MASTER, CEM-7038, ENABLES CABLE OPERATORS TO START THE TRIPLE-PLAY SERVICES TO A BUILDING OR COAX SEGMENT.
NO ADDITIONAL NETWORK WIRING IS NECESSARY. CABLE OPERATORS MAY JUST USE THE EXISTING COAX WIRING OF CABLE OPERATORS OR IN THE MDU BUILDING, THEN BE READY TO PROVIDE THE BROADBAND TRIPLE-PLAY SERVICES TO SUBSCRIBERS.
LOW INITIAL DEPLOYMENT COST. THE LOW INITIAL COST CAN EXPAND THE SERVICE TO SMALL SCALE BUILDING WITH HIGHER SPEED THAN CMTS. DUAL SUPPORT OF IPV4 AND IPV6 PROVIDE THE FLEXIBILITY FOR OPERATORS.

WITH CEM-7038 HIGH THROUGHPUT AND QOS, IT CAN OPTIMIZE IPTV SERVICE.
AUTO PROVISIONING AND REMOTE MANAGEMENT. IT MINIMIZES THE INSTALLATION AND SUPPORT COST. THE UNIQUE ENDPOINT SERVICE CONTROL SUPPORTS SERVICE PROVIDERS WITH DIFFERENT SERVICE LEVELS AND SERVICE SCHEMES.

Features
IP67 Waterproof Outdoor Design
Design for Operators Providing High Speed Service over Coax Network
EoC up to 700/350 Mbps PHY/Throughput Rate as Distribution Backbone over Coax
Multiple Master Bridges Support (Optional)
Two 100/1000M Gigabit Ethernet Ports with One Port 100/1000Mbps SFP Support
Up to 90dB Attenuation on Coax Network
Support up to 253 Endpoints with Isolation
Line Power Feeding by Coax
IPv4 and IPv6 Support
Endpoint Service Control and Bandwidth Control
Endpoint Ethernet Loop Detection and Isolation
Online Diagnosis Support
802.1p QoS and 802.1Q Tag VLAN Support
IGMP Snooping Control